Would be possible mundaywed adding World Rank
on signatures ?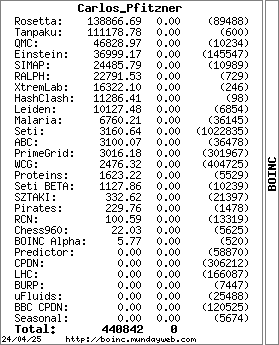 Like this.. see "totals line"
Thanks
---
Hi,

This has been discussed in the past - see "Neil's To-Do-List".

Long story short... the way my system was originally designed was to only support Seti. Since way back then, more projects have been bolted on and the system has evolved. In some ways it would be nice to start from scratch now that all the requirements are known!

Some major re-coding and database re-structuring would be needed to implement the global rank. Unfortunately I do not have the time to implement these changes at the moment.

Cheers,

Neil.
---