Hi,

Rosetta@Home hasn't updated since 19/02/2021.
It does appear to be updating on other stat counters.

Thanks.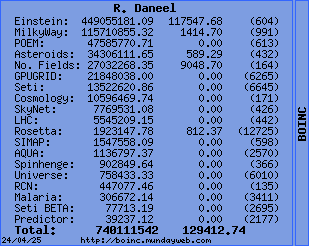 Hi,

I'm not sure why at present that the Rosetta stats were not up to date, but they are now after a manual run of the stats update script.

I'll keep an eye on it.

Cheers,

Neil.
Hi again,

Finally tracked down the problem to Python's ElementTree.iterparse() function causing a lot of RAM to be used which in the case of Rosetta caused the script to fail under cron.

Code modified to free up RAM and this has resolved the issue at last.

Cheers,

Neil.