New Member
Posts: 3
Joined: Mon May 02, 2005 2:54 pm
Location: UK
---
Hello and welcome.

Enjoy your stay,
Neil Munday.

---
look at the memberlist, there you can see that here are just 11 other guys than you


---
---
lol...
Time will tell if the forums are worth it.
I had two reasons for creating the forums:
1) I used to have my own PHP forum (written by myself) when the site was in its previous colour scheme and layout. It was mainly used by myself and my friends from home whilst we were all at Uni from 2000 - 2003. However, as we've all left now and are back home it was not used any more. So I got rid of it when I re-designed the site in March 2005. However, I was asked where the forum had gone, so here it is, but more flash of course

2) My BOINC inbox usually has a few e-mails a day about various things. E.g. password resets, new feature requests, and general help, as well as the occasional request for a new BOINC project to be added. Of course, there's the odd bug discovery too. Anyhow, I thought that a forum for my BOINC Stats Counter users would allow FAQ's to be addressed far more easily. In addition, it gives you a chance to discuss things about my stats service and see my "To-do-list".
So far the BOINC forum appears to be doing its job well, as my inbox is slightly less full and a bug has been found and resolved already!
I hope that the forums continue to be of use to my users.
Neil.
---
Well just wanted to jump in and say HELLO to all. Neil, thanks so much for setting this forum up, as it will allow some of my team members direct access to questions they may have aboot stats sigs, to get answers "from the horses mouth".
Guia turned me on to the website link, and was really pleased to see another active forum.
Again, many thanks.....
deej

---
Hi deej,
Glad to see you on the forums.
Enjoy your stay

Neil.
---
Thanks Neil, its always nice to have a new forum to lurke in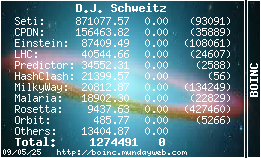 ---