Member
Posts: 63
Joined: Fri Aug 04, 2006 1:27 am
---
They're not exporting any stats yet, so none of the stats sites can add them.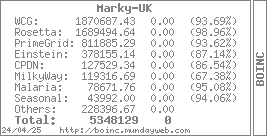 ---
Hi,

Thanks for the info. Once they're exporting XML stats, I'll add the project to the site.

I'm due back from the US on Friday, but there's a lot of snow over here at the mo, so I hope I won't be delayed getting back to the UK!

Cheers,

Neil.
---
Stats for WEP-M+2 seem to be getting exported now

http://bearnol.is-a-geek.com/wanless2/stats/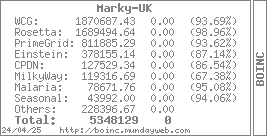 ---
Hi,

Thanks for the info, I'll add the project later in the week.

Cheers,

Neil.
---
---
Ah...

My bad - I forgot.

I will add the project tomorrow or Sunday all being well.

Cheers,

Neil.
---
Hi,

Support for the project has been added.

Cheers,

Neil.
---
---
Member
Posts: 61
Joined: Tue Mar 14, 2006 3:24 pm
Contact:
Anyone know if they're ever planning on turning on the forums?
Or is there a separate set of boards not linked from the front page?




Kathryn

The BOINC FAQ Service
The Unofficial BOINC Wiki
The Trac System
More BOINC information than you can shake a stick of RAM at.
---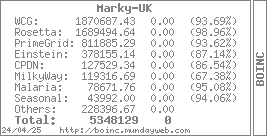 ---
Hi,

I have updated the name of the project, but the plus symbol seems to get encoded incorrectly by the PHP urlencode function, so it appears missing in the graphics generated by any of the mirrors at the mo.

Cheers,

Neil.
---